Corporate Apparel
Your employees serve as the public face of your company, making corporate apparel an important part of any branding strategy. StaffWear 2 can help you create a corporate apparel program that honors the individuality of your employees while ensuring an image consistent with your brand.
The "Job" of Corporate Apparel
Like your employees, corporate apparel has a job to do. Among its many duties, corporate apparel must:
Project the desired image - Professional, branded attire reflects your company's values and personality. Our corporate apparel consultants can help you choose appropriate apparel styles to match your corporate identity such as casual polo shirts and khaki bottoms or more formal blazers and dress shirts.
Instill confidence - As they say, dress for success. When your employees wear professional attire, they'll instantly feel and act more professional. A study published in the Journal of Applied Psychology found that participants who dressed formally used more formal adjectives than casual ones to describe themselves - and vice versa.
Identify employees - Corporate apparel instantly identifies your team members, helping your customers to instantly know whom they're dealing with.
StaffWear2 creates custom corporate apparel and uniforms that convey a consistent brand message, help your employees feel confident, and put your customers at ease. Contact us today to schedule a consultation.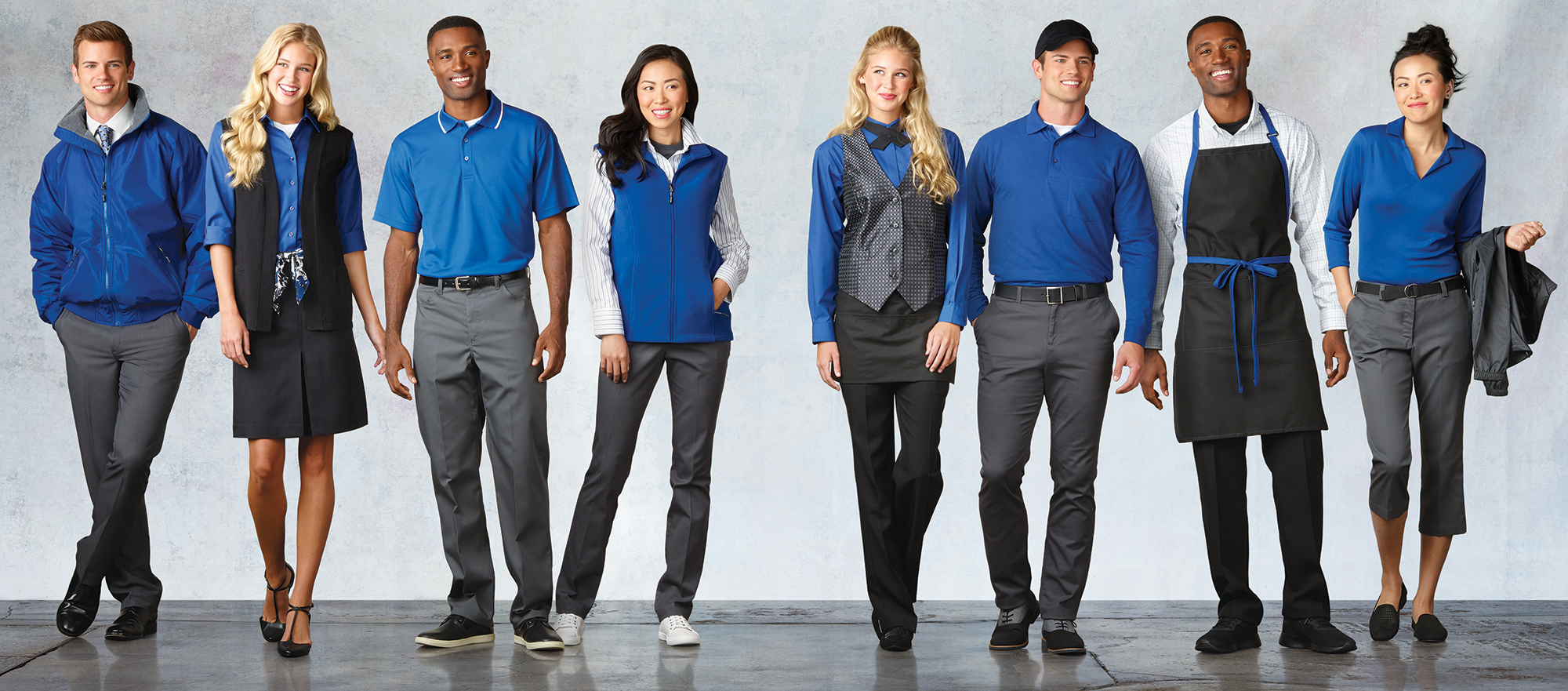 Venue Apparel
Customers visiting restaurants, hotels, hospitals, amusement parks, and other venues expect to encounter uniformed employees. Custom venue apparel and uniforms from StaffWear2 ensure your employees are easily identified in the crowd.
Comprehensive Venue Apparel Strategy and Development
It's common to order uniforms for individual departments, but it's less common to develop a strategy that covers the entire venue's apparel needs. In addition to creating attractive, custom venue apparel for housekeeping, concessions, and other departments, we can also develop a cohesive apparel program that clearly identifies different departments or job roles.
As part of our apparel design process, we examine a variety of factors such as:
The nature of the job - Employees who work outdoors or perform manual labor will have different apparel requirements than those who work in a medical office or commercial kitchen environment.
Tradition - How do employees in this job role traditionally dress? Customers may expect your employees to dress a certain way. If so, straying too far from tradition may cause confusion. Our venue apparel consultants can offer creative suggestions that update the look while living up to customer expectations.
The company's identity - We also consider who you are as a company. This allows us to develop a comprehensive venue apparel program that reflects your core identity.
There's a lot to consider when developing an apparel program for an entire venue. Our consultants are experts at it - and eager to be of service. Contact us today to learn more.
Event Apparel
Identify Event Staff with Style and Authority - Staffed by a team of consultants, designers, embroiders, and graphic artists, StaffWear2 offers comprehensive event apparel programs customized to meet your specific needs.
Whether you need security uniforms, branded polo shirts for event staff and ushers, or special event apparel, we work with you to create an event apparel program that:
Identifies individual roles - Security apparel, for example, serves as both an identifier and a deterrent. With a professionally developed event apparel program in place, you can be sure that visitors will be able to quickly distinguish your staff members' roles and authority.
Makes the right impression - Your staff is the public face of the event, and what they wear makes an impression both on staff members and the general public. Our consultants and apparel designers go above and beyond to create event apparel that your staff will feel proud to wear - and that will make a positive impression on your guests.
Conveys your brand - From embroidered logos and stylish apparel choices to incorporating your company's color scheme, we'll design custom event uniforms that showcase your brand beautifully.
Make sure that your event staff stands out and represents your brand appropriately with custom event apparel from StaffWear2. Contact us today to get started.